LED lighting for high bay warehouse
Highly efficient lighting solutions and LED lighting for high-bay warehouses – by August Müller Lichttechnik
For balanced and good lighting in your high-bay warehouse, choosing the right lighting technology is highly important.
A long lighting period requires particularly high efficiency lighting. Goods, obstacles and labels must be clearly visible, especially when working with forklifts, this can create the best possible working conditions.
The release of melatonin (sleep hormone) is slowed down by good and bright light, which prevents fatigue and increases the ability to concentrate.
Incident risks can thus be minimized, performance potential better exploited and workflows optimized.
The cleanliness of your high-bay warehouse is highlighted by bright and neutral lighting.
A professional lighting of your high bay warehouse is the foundation for increasing your productivity.
The LED high-bay luminaires of the AML-GE, AML-HB and AML-SQ series from August Müller Lichttechnik are matched to the special requirements for illuminating high-bay warehouses and impress with particularly high energy efficiency and a very long service life. A beam angle of 120° (the AML-SQ series has a beam angle of 90°) reduces glare and the colour temperature of 4,000K ensures a neutral light. Thanks to high-quality LED drivers from Mean Well, the light is absolutely flicker-free.
.
Take advantage of modern LED technology for your high-bay warehouse during retrofitting or new installation:
Up to 90% power savings

.

No switch-on delay, full brightness immediately

.

Low maintenance costs due to very long lifetime

.

no flickering, no UV and IR radiation
low heat generation
full dimmability
harmless for health and environment
numerous certifications
Intensity of Illumination for LED Hall Lighting
The DIN EN 12464-1 regulation sets out precise specifications for lighting in a warehouse, storage hall or storage room.
Warehouse, storage room and storeroom: 100 lux

.

Storage hall, supply and storage room, permanently occupied: 200 lux
Warehouse, shipping and packing room: 300 lux

.

Warehouse, (high) rack storage, travel ways without passenger traffic : 20 lux

.

Warehouse, (high) rack storage, travel ways with passenger traffic: 150 lux

.

Warehouse, (high) bay warehouse, control room: 150 lux

.
We recommend a buffer of at least 10% above the guideline values when planning the lighting, as LED high-bay luminaires can lose up to 20% luminosity over the course of their average service life of 15 years.
Online Light Planner
Now easily plan your lighting online – with our free online lighting planner.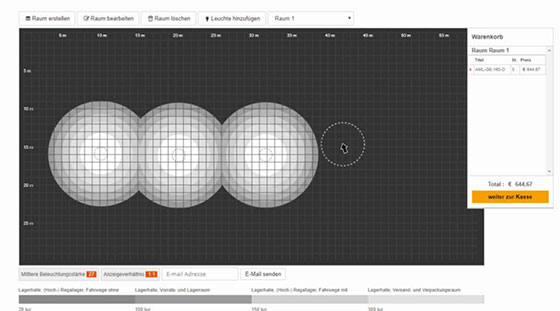 Professional Lighting Calculation
We are happy to provide you with a free and non-binding professional lighting design according to your requirements.
Sample light
Request a sample light free of charge and without obligation.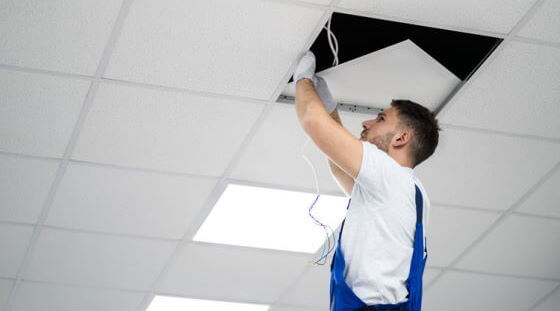 Conversion of existing hall lighting
Products from our house

.

replace the following lights

.


AML-HB-250 D


AML-GE-240 D
1pc HQL lamp 500W
7-8pcs fluorescent tubes 58W
1 pc halogen bulb 2,000 W
23-24 pcs incandescent bulbs 100 W
AML-GE-200 D


AML-SQ-200 D

1pc HQL lamp 400W
5-6 pcs fluorescent tubes 58W
1 pc halogen bulb 1,500 W
19-20 pcs incandescent bulbs 100 W
AML-GE-160 D
AML-SQ-150 D
1pc HQL lamp 300W
4-5pcs fluorescent tubes 58W
1pc halogen bulb 1,000W
15-16 incandescent bulbs 100W
AML-SQ-100 D
AML-GE-80 D
1pc HQL lamp 250W
3-4pcs fluorescent tubes 58W
1pc halogen bulb 750W
11-12 incandescent bulbs 100W
Reference values
New construction / redesign of your warehouse
We recommend for a high-bay warehouse with the dimensions 40.00 m x 20.00 m x 6.00 m (lxwxh) a lighting with our LED high-bay luminaires AML GE-240 D. With only 24 pieces of these LED lights you have reached an illumination of up to 435 lux in a horizontal plane at 0,75m or of approx. 300 lux in a vertical plane. Thus the recognition of storage place and product labels is possible without problems and with low fatigue. In our example we have chosen a warehouse consisting of 7 rows of shelves. For each aisle, 3 luminaires are mounted at an even distance.
As an alternative for the discerning eye, we recommend our design LED high bay luminaires of the AML-HB series. Here, ideally 20 pieces AML-HB-250 D are needed.
Savings with LED hall lighting compared to conventional lighting technology
Electricity Savings
With 24 pieces of AML-GE-240 D, you can replace 24 mercury vapor lamps (HQL) with 400 W each, resulting in a total electricity saving of 3,840 W/h. With a useful life of at least 15 years and an average duty cycle of 8 h/day, this results in electricity savings of 168,192 kW/h. At an average electricity price of currently 27.5 cents/kWh, this corresponds to a total electricity cost saving of 46,252.80 EUR.
.
If 24 halogen bulbs with 1,500 W each are replaced under the same conditions, this even results in electricity cost savings of 364,240.80 EUR in total.
.
CO2 savings
.
You benefit at the same time from a significantly lower CO2 emission, if you replace 24 pieces of mercury vapor lamps (HQL) with 400QW each by 12 pieces of AML-GE-240 D, this corresponds to an average duty cycle of 8h/day and a useful life of 15 years, as well as a Co2 emission of 485 grams per kW/h a reduction of approximately 81.58 tons of CO2.
.
When replacing 24 halogen incandescent lamps with 1,500W each, the same conditions even result in a reduction of 642.38 tons of CO2.
Very long life
.
The exceptionally long lifetime of our luminaires saves costs due to manufacture, transport, installation and disposal, which, in addition to saving electricity and CO2, improves the ecological footprint of your company and quickly amortizes the acquisition costs.
Order here now for cheap direct sales: