LED Office Lighting
Highly efficient lighting solutions for your office lighting – from August Müller Lichttechnik
For balanced and good lighting in your office, choosing the right lighting technology is highly important.
A long lighting period requires particularly high efficiency lighting.
The release of melatonin (sleep hormone) is slowed down by good and bright light, which prevents fatigue and increases the ability to concentrate. Flicker-free light prevents headaches or lack of concentration.
Thus, optimal office lighting can better exploit performance potentials, optimize work processes, and reduce sick leave.
The cleanliness and orderliness of your workspaces will be highlighted by bright and neutral lighting.
A professional lighting of your office space is the foundation for increasing your productivity.
The LED panels of the AML-PA series from August Müller Lichttechnik are tailored to the special requirements for the permanent illumination of office spaces and impress with their particularly high energy efficiency and very long service life. The LED panels can be used in suspended ceiling systems (OWA) as well as for direct ceiling mounting, which ensures versatile uses and homogeneous illumination in all premises.
>
From a mounting height of 3 metres, you can also use LED high-bay luminaires of the AML-GE, AML-HB, AML-SQ or AML-HBB series (in lower office spaces, this is not recommended due to the glare effect), these convince with particularly high energy efficiency and very long service life.
The color temperature of 4,000K provides a neutral light and an ideal working atmosphere. Thanks to high-quality LED drivers from Mean Well, the light is absolutely flicker-free and therefore harmless to health.
.
Take advantage of modern LED technology for your office when retrofitting or installing new:
.
Up to 90% power savings

.

No power-on delay, full brightness immediately

.

Low maintenance costs due to very long lifetime

.

no flickering, no UV and IR radiation
low heat generation
full dimmability
harmless for health and environment
numerous certifications
Intensity of illumination for LED office lighting
According to DIN EN 12464-1 and the recommendations of the German Association of Ophthalmologists, the following illuminance levels should be maintained for the various activities or areas in your office:
Archive / kitchenette / sanitary rooms: 200 lux
General area / circulation areas: 300 lux
PC workstation / conference / meeting rooms: 500 lux
.
To achieve this specification of 500 lux illuminance fora PC / office workstation with3.5m x 3.5m area at 2.40m ceiling height, you will need 4 pieces of LED panels AML-PA 58 D.
We recommend to consider a buffer of at least 10% above the guideline values when planning the light, as LEDs can lose up to 20% luminosity during their average lifetime of 15 years.
Online Light Planner
Now easily plan your lighting online – with our free online lighting planner.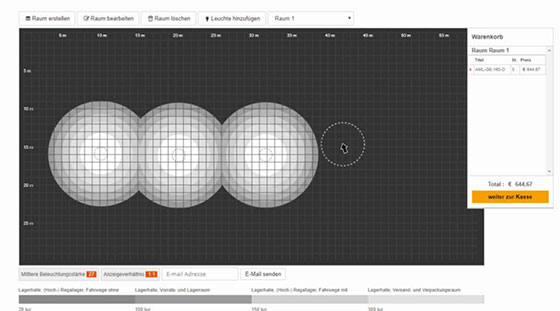 Professional Lighting Calculation
We are happy to provide you with a free of charge and no obligation professional lighting design according to your requirements.
Sample light
Request a sample light free of charge and without obligation.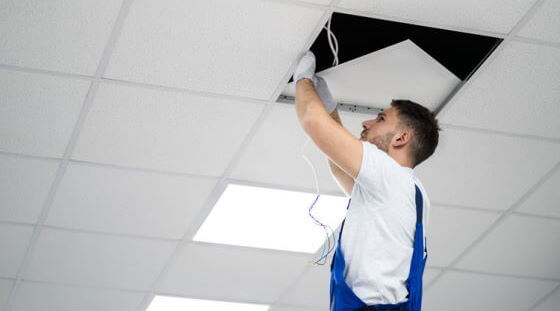 Order your BüRoo lighting in cheap direct sales now:
LED Tube AML® T8-120 ECO (30 pieces) – 2.520lm, 18W, 4.000K, 3 years warranty

inkl. 19 % MwSt.

zzgl. Versandkosten

Lieferzeit: 2-3 Werktage

LED Tube AML® T8-120 ECO (30 pieces) – 2.520lm, 18W, 4.000K, 3 years warranty

inkl. 19 % MwSt.

zzgl. Versandkosten

Lieferzeit: 2-3 Werktage

LED Tube AML® T8-150 ECO (30 pieces) – 3.080lm, 22W, 4.000K, 3 years warranty

inkl. 19 % MwSt.

zzgl. Versandkosten

Lieferzeit: 2-3 Werktage

LED Tube AML® T8-150 ECO (30 pieces) – 3.080lm, 22W, 4.000K, 3 years warranty

inkl. 19 % MwSt.

zzgl. Versandkosten

Lieferzeit: 2-3 Werktage

LED Tube AML® T8-60 ECO (30 pieces) – 1.260lm, 9W, 4.000K, 3 years warranty

inkl. 19 % MwSt.

zzgl. Versandkosten

Lieferzeit: 2-3 Werktage

LED Tube AML® T8-60 ECO (30 pieces) – 1.260lm, 9W, 4.000K, 3 years warranty

inkl. 19 % MwSt.

zzgl. Versandkosten

Lieferzeit: 2-3 Werktage

LED Tube AML® T8-90 ECO (30 pieces) – 1.680lm, 12W, 4.000K, 3 years warranty

inkl. 19 % MwSt.

zzgl. Versandkosten

Lieferzeit: 2-3 Werktage

LED Tube AML® T8-90 ECO (30 pieces) – 1.680lm, 12W, 4.000K, 3 years warranty

inkl. 19 % MwSt.

zzgl. Versandkosten

Lieferzeit: 2-3 Werktage
LED floodlight AML® GE-120 D – dimmable, 16.200lm, 120W, 4.000K, IP65, 5 years warranty

inkl. 19 % MwSt.

zzgl. Versandkosten

Lieferzeit: 2-3 Werktage

LED floodlight AML® GE-120 D – dimmable, 16.200lm, 120W, 4.000K, IP65, 5 years warranty

inkl. 19 % MwSt.

zzgl. Versandkosten

Lieferzeit: 2-3 Werktage

Bestseller

LED floodlight AML® GE-160 D – dimmable, 21.600lm, 160W, 4.000K, IP65, 5 years warranty

inkl. 19 % MwSt.

zzgl. Versandkosten

Lieferzeit: 2-3 Werktage

Bestseller

LED floodlight AML® GE-160 D – dimmable, 21.600lm, 160W, 4.000K, IP65, 5 years warranty

inkl. 19 % MwSt.

zzgl. Versandkosten

Lieferzeit: 2-3 Werktage

Bestseller

LED floodlight AML® GE-160 D – dimmable, 21.600lm, 160W, 5.700K, IP65, 5 years warranty

inkl. 19 % MwSt.

zzgl. Versandkosten

Lieferzeit: 2-3 Werktage

Bestseller

LED floodlight AML® GE-160 D – dimmable, 21.600lm, 160W, 5.700K, IP65, 5 years warranty

inkl. 19 % MwSt.

zzgl. Versandkosten

Lieferzeit: 2-3 Werktage

LED floodlight AML® GE-200 D – dimmable, 27.000lm, 200W, 4.000K, IP65, 5 years warranty

inkl. 19 % MwSt.

zzgl. Versandkosten

Lieferzeit: 2-3 Werktage

LED floodlight AML® GE-200 D – dimmable, 27.000lm, 200W, 4.000K, IP65, 5 years warranty

inkl. 19 % MwSt.

zzgl. Versandkosten

Lieferzeit: 2-3 Werktage

Bestseller

LED floodlight AML® GE-240 D – dimmable, 32.400lm, 240W, 4.000K, IP65, 5 years warranty

inkl. 19 % MwSt.

zzgl. Versandkosten

Lieferzeit: 2-3 Werktage

Bestseller

LED floodlight AML® GE-240 D – dimmable, 32.400lm, 240W, 4.000K, IP65, 5 years warranty

inkl. 19 % MwSt.

zzgl. Versandkosten

Lieferzeit: 2-3 Werktage

Bestseller

LED floodlight AML® GE-240 D – dimmable, 32.400lm, 240W, 5.700K, IP65, 5 years warranty

inkl. 19 % MwSt.

zzgl. Versandkosten

Lieferzeit: 2-3 Werktage

Bestseller

LED floodlight AML® GE-240 D – dimmable, 32.400lm, 240W, 5.700K, IP65, 5 years warranty

inkl. 19 % MwSt.

zzgl. Versandkosten

Lieferzeit: 2-3 Werktage