LED stable lighting
High efficiency barn lighting for dairy and livestock barns with ammonia resistance
For balanced and good LED barn lighting in your livestock barn, choosing the right lighting technology is highly important.
Dusk vision is strong in cows, but it takes the cow's eye much longer to adjust to differences in light. This is why cows, and especially young animals, can shy away from a shadow, a patch of light, or a sudden change in color. A uniform and flicker-free illumination of animal stalls is therefore especially important, and not only for cows.
The release of melatonin (sleep hormone) is slowed by good and bright light, which can increase milk production in cows.
Good lighting reduces the risk of accidents and increases the performance potential of your staff. Animals can be better inspected and injuries/illnesses can be detected early.
Good, bright lighting contributes to the well-being of both people and animals and is the basis for increased productivity.
The LED high bay luminaires of the AML-GE series from August Müller Lichttechnik are tailored to the special requirements for the illumination of dairy barns and livestock housing and impress with their particularly high energy efficiency and very long service life. With their IP65 protection class and the distinctive aluminium heat sink, the LED luminaires are suitable without restrictions for the special climatic conditions (strong temperature fluctuations summer/winter, high humidity) and heavy exposure to dust and dirt (e.g. bird droppings) as well as cleaning work (with water jets) in stables.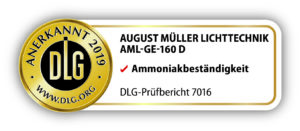 The ammonia resistance has been tested and certified by the DLG (German Agricultural Society) in a patented and proven test procedure.
Through a beam angle of 120 °, the glare effect of the lights is reduced. Thanks to high-quality LED drivers from Mean Well, the light of the hall spotlights AML-GE of August Müller Lichttechnik is absolutely flicker-free and harmless to health.
.
For barn lighting, we recommend the light color neutral white with 4,000K for neutral lighting with optimal efficiency.

Take advantage of modern LED technology for your barn lighting when retrofitting or installing new:
Up to 90% power savings

.

No switch-on delay, immediately full brightness

.

Low maintenance costs due to very long lifetime

.

no flickering, no UV and IR radiation
low heat generation
full dimmability
harmless to health and environment
numerous certifications
Unlike fluorescent tubes or mercury vapor lamps, the efficiency (luminous efficacy) of LED lights does not decrease but actually increases at cold temperatures in winter.
Lighting Intensity for LED Barn Lighting
In livestock barns, an illuminance of 150 lux to 200 lux is recommended in the "lying down", "eating" and "walking" areas. For special resting areas, an illuminance of less than 50 lux should be used.
The DIN EN 12464-1 (Lighting and lighting – Lighting of workplaces) can be used as a guideline for optimal lighting of your livestock barn.
Working space, workplace, activity

.

Intensity of lighting
in lux
Traffic areas and corridors without vehicular traffic

.

50
Traffic areas and corridors with vehicular traffic

.

150
Charge and operate conveyors and machinery

.

200
Treatment rooms for animals
200
Milking stalls
200
Type of indoor space, area of visual task, or area of activity

.

Intensity of illumination
in lux
Livestock pens
50
Pens for sick animals, calving pens

.

200
Fodder preparation, milk rooms, equipment cleaning

.

200
Online Light Planner
Now easily plan your lighting online – with our free online lighting planner.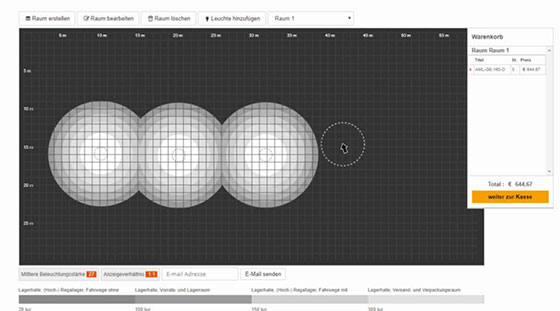 Professional Lighting Calculation
We are happy to provide you with a free of charge and no obligation professional lighting design according to your requirements.
Sample light
Request a sample light free of charge and without obligation.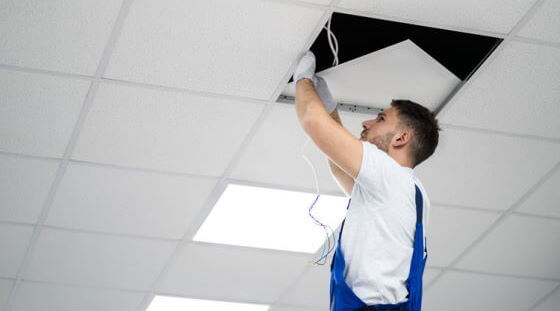 Conversion of existing hall lighting
Product made in our factory

.

replaces the following lights
AML-GE-240 D
1pc HQL lamp 500W
7-8pcs fluorescent tubes 58W
1 pc halogen bulb 2,000 W
23-24 pcs incandescent bulbs 100 W
AML-GE-160 D
1pc HQL lamp 300W
4-5pcs fluorescent tubes 58W
1 pc halogen bulb 1,000 W
15-16 pcs incandescent bulbs 100 W
AML-GE-80 D
1pc HQL lamp 250W
3-4pcs fluorescent tubes 58W
1 pc halogen bulb 750 W
11-12 pcs incandescent lamps 100 W
New construction / redesign of your warehouse
We recommend for a livestock barn with the dimensions 40.00 m x 20.00 m x 5.00 m (lxwxh ) a lighting with our LED hall spotlights AML-GE-160 D.
.
With only 16 lights you have already achieved a uniform illuminance of 200 lux in the feeding and main stay area of the cows.
For increased illumination of individual sub-areas (calving station, sick bay, etc.), spot lighting with individual hall spotlights of the AML-GE series is recommended.
Your savings compared to traditional lighting
.
With the AML-GE-240 D, you replace 16 metal halide (mercury vapor) lamps of 400 W each, resulting in a total electricity savings of 2,560 W/h. Assuming a service life of the LED barn lighting of at least 15 years and an average duty cycle of 8 h/day, this results in electricity savings of 112,128 kW/h. At an average electricity price of currently 27.5 cents/kWh, this corresponds to a total electricity cost saving of 30,835.20 EUR.
.
If 16 halogen incandescent lamps with 1,500 W each are replaced under the same conditions, this even results in electricity cost savings totalling 242,827.20 EUR.
Order LED barn lighting now for cheap direct sales: