LED riding arena lighting
Highly efficient LED lighting solutions for riding arenas - by August Müller Lichttechnik
For a balanced and good light of your riding arena, the choice of the right lighting technology is of high importance.
Twilight vision is strongly developed in horses, but the horse's eye takes much longer to adjust to differences in light. This is the reason why horses and especially young animals can shy away from a shadow or a spot of light or stumble when they suddenly go from light to dark or vice versa.
An even and flicker-free illumination of the riding arena is therefore particularly important.
Good and bright light slows down the release of melatonin (sleep hormone) in horse and rider, which prevents fatigue and increases the ability to concentrate.
Accident risks can thus minimizesThe performance potential can be better exploited and the fun of riding can be increased.
An professional lighting is the Foundation in favour of a high utilization of your riding arena in training and competition.
The LED Floodlight of the series AML-FLP and AML-FLP2 from August Müller Lichttechnik are tailored to the special requirements for the illumination of riding arenas and convince with particularly high energy efficiency and very long service life. Due to the high Protection class the LED lights are suitable for the dusty and climatic conditions of a riding arena without restrictions. Due to a Beam angle of 110°, the glare effect is reduced and the Colour temperature From 4.000K provides a neutral light. Thanks to high-quality LED drivers from Mean Well the light is absolutely flicker-free.
Use the Advantages modern LED riding arena lighting for your indoor riding arena for retrofitting or new installation:
up to 90% power saving
no switch-on delay, immediately full brightness
low maintenance costs due to very long service life
no flickering, no UV and IR radiation
low heat generation
harmless for health and environment
Illuminance for optimal LED riding arena lighting
For riding arenas in training and leisure use, illuminance levels in the range of 120 - 250lux recommended. For competitions at least 500lux provided.
An outdoor riding arena is best lit with spotlights and luminaires on poles. When illuminating an outdoor riding arena, taller poles offer the advantage of more uniform illumination and the glare effect is reduced. Masts with a minimum height of seven metres are recommended, ten metres or high masts with brackets are better.
Online light planner
Plan your lighting easily online now - with our free online light planner.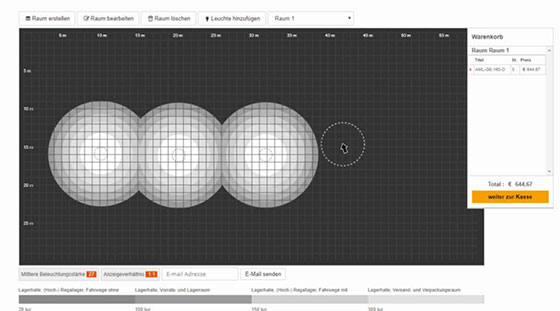 Professional light calculation
We will gladly create for you free of charge and without obligation a professional lighting design according to your requirements.
Sample light
Free of charge and without obligation a sample lamp request.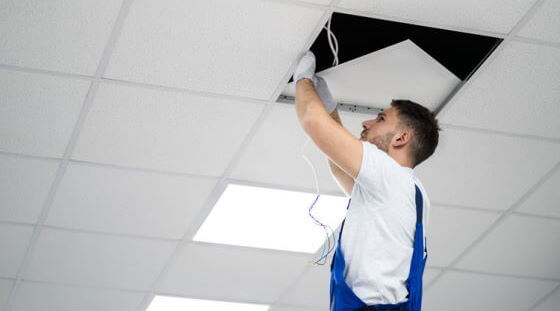 Conversion of existing lighting installations
New construction / new planning of your riding arena
We therefore recommend for a riding arena with the dimensions 42.00 m x 22.00 m (lxw) a riding arena lighting with our AML FLP-200 D. With only 20 lights you have already achieved an illumination of over 170 lux. 5 masts with a height of 8 m are set up on each side. 2 lights are mounted on each mast.
Your savings compared to conventional lighting technology
With the AML-FLP-200 D you replace 16 metal halide lamps (mercury vapour lamps) with 250 W each, which results in a total electricity saving of 800 W/h. With a useful life of at least 15 years and an average duty cycle of 8 h/day, this results in electricity savings of 35,040 kW/h. At an average electricity price of currently 27.5 cents/kWh, this corresponds to a total of Electricity cost savings of EUR 9,636.00.
If 16 halogen lamps with 1,000 W each are replaced under the same conditions, the result is even a Electricity cost savings totalling EUR 154,176.00.
CO2 saving
At the same time one profits from a clearly lower CO2 emission, if one replaces 16 mercury vapour lamps (HQL) with 400W each by 16 pieces AML-FLP-200 D, this corresponds with an average duty cycle of 8h/day and a service life of 15 years, as well as a CO2 emission of 485 gram per kW/h a reduction of approx. 67.97 tons of CO2.
If 16 halogen lamps with 1,500W each are replaced under the same conditions, this even results in a reduction of 441.85 tons of CO2.
Very long service life
Due to the exceptionally long service life of our luminaires, costs are reduced by Production, transport, assembly and disposal which, in addition to saving electricity and CO2, improves the ecological footprint of your company and reduces Acquisition costs quickly amortized become
Order now the suitable LED riding arena lighting in the favorable direct sales:
LED spotlight AML® FL-10 (black housing) - 900lm, 10W, 2.700K, IP65, 2 years warranty

incl. 19% VAT

plus Shipping costs

Delivery time: 12-14 weeks

LED spotlight AML® FL-10 (black housing) - 900lm, 10W, 4.000K, IP65, 2 years warranty

incl. 19% VAT

plus Shipping costs

Delivery time: 2-3 workdays

LED spotlight AML® FL-10 (white housing) - 900lm, 10W, 2.700K, IP65, 2 years warranty

incl. 19% VAT

plus Shipping costs

Delivery time: 12-14 weeks

LED spotlight AML® FL-10 (white housing) - 900lm, 10W, 4.000K, IP65, 2 years warranty

incl. 19% VAT

plus Shipping costs

Delivery time: 2-3 workdays

LED spotlight AML® FL-20 (black housing) - 1.800lm, 20W, 2.700K, IP65, 2 years warranty

incl. 19% VAT

plus Shipping costs

Delivery time: 2-3 workdays

LED spotlight AML® FL-20 (black housing) - 1.800lm, 20W, 4.000K, IP65, 2 years warranty

incl. 19% VAT

plus Shipping costs

Delivery time: 2-3 workdays

LED spotlight AML® FL-20 (white housing) - 1.800lm, 20W, 2700K, IP65, 2 years warranty

incl. 19% VAT

plus Shipping costs

Delivery time: 2-3 workdays

LED spotlight AML® FL-20 (white housing) - 1.800lm, 20W, 4.000K, IP65, 2 years warranty

incl. 19% VAT

plus Shipping costs

Delivery time: 2-3 workdays

LED spotlight AML® FL-30 (black housing) - 2.700lm, 30W, 2.700K, IP65, 2 years warranty

incl. 19% VAT

plus Shipping costs

Delivery time: 4-6 weeks

LED spotlight AML® FL-30 (black housing) - 2.700lm, 30W, 4.000K, IP65, 2 years warranty

incl. 19% VAT

plus Shipping costs

Delivery time: 4-6 weeks

LED spotlight AML® FL-30 (white housing) - 2.700lm, 30W, 2.700K, IP65, 2 years warranty

incl. 19% VAT

plus Shipping costs

Delivery time: 4-6 weeks

LED spotlight AML® FL-30 (white housing) - 2.700lm, 30W, 4.000K, IP65, 2 years warranty

incl. 19% VAT

plus Shipping costs

Delivery time: 2-3 workdays

LED spotlight AML® FL-50 (black housing) - 4.500lm, 50W, 2.700K, IP65, 2 years warranty

incl. 19% VAT

plus Shipping costs

Delivery time: 2-3 workdays

LED spotlight AML® FL-50 (black housing) - 4.500lm, 50W, 4.000K, IP65, 2 years warranty

incl. 19% VAT

plus Shipping costs

Delivery time: 2-3 workdays

LED spotlight AML® FL-50 (white housing) - 4.500lm, 50Watt, 2.700K, IP65, 2 years warranty

incl. 19% VAT

plus Shipping costs

Delivery time: 2-3 workdays

LED spotlight AML® FL-50 (white housing) - 4.500lm, 50Watt, 4.000K, IP65, 2 years warranty

incl. 19% VAT

plus Shipping costs

Delivery time: 2-3 workdays